The
Playbook


for Your Rebrand
Journey
Get answers to
these questions:
How will I know if a rebrand is what I need?

What should I consider when looking for an agency?

How will I involve stakeholders on this journey?

How do I know if I'll lose or gain equity in a rebrand?

How long will it take, and how much effort is needed?

Conquer the rebrand journey in four parts.
Part 1

Chapters 1 - 3

Get acquainted with the earliest aspects of the rebrand journey. You'll learn when it's time to rebrand, what a rebrand will (and will not) solve, and how to find the right agency partner for your rebrand.

Part 2

Chapters 4 - 5

Learn about the work that happens at the start of a rebrand, with a number of foundational elements that offer "how-to" logistical insights about building your team, meeting your agency's team, and kicking things off the right way to ensure a successful process.

Part 3

Chapters 6 - 8

Dive into the details of the rebrand process, including the project flow, including strategy, verbal identity, and visual identity. Drawn from years of brand experience, this part provides valuable insights into why certain things happen at different times, who's involved, and how each step leads toward the next.

Part 4

Chapters 9 - 10

Familiarize yourself with the final steps involved in the rebrand experience, including the critical details that you and your agency must dial in at the end: exporting the right files, setting up and following through on your brand rollout plan, and more.

This book peels back the covers on the entire process, then keeps going. It runs you through the highs and lows, gives you tactical insights and details, decodes insider language, and leaves you with actionable steps you can start using today."
Bob Moore
Chief Executive Officer, Crossbeam
I can't thank you enough for building such a positive, healthy agency. You and your crew are exactly the people I always want to work with. I implicitly trust you all and shout your names from every rooftop I can find."
Elizabeth Hague
Head of Brand and Demand Marketing, Very
One of the best investments that I've made ever in part of running a startup. And this is my fourth time."
Humberto Ayres Pereira
Founder + CEO, Rows
Establishing a brand that is equal parts human and enterprise-class in a saturated industry is no simple feat. We knew that going into this project. But Focus put forth a team and process that immediately laid our anxieties to rest. Their capacity to translate the complexities of our mission, identity, and value prop into a beautiful, clean, and meaningful identity was simply outstanding. I could not be happier with the result."
Kent Siri
VP of Marketing, Reify Health
So much love for the Focus Lab team. You guided us, advised us, challenged us, supported us. We could not have done this without you."
Britta Schellenberg
VP of Marketing, Robin
I now understand why Focus Lab came so highly recommended. I've never had such super-serving from a vendor in my entire life.
Dan Owen
Global Director of Creative and Branding, Netflix
The line between artist and art is ethereal. You are a team of exceptionally skilled artists, but your superpower is the way you open your process to allow others in.
David Simon
Senior Vice President Marketing, Luminate
What I've found over the years in brand transformation work is that branding is as much about internal transformation as it is external. While the Focus Lab team excels creatively, the real magic comes through in the partnership and process of working through the challenging discussions and continuous iterations that it takes to get to the best outcome.
Sergio Claudio
VP of Brand Experience, Zuora
You've totally spoiled us in terms of working with any other 'branding partner.' Why can't every team be like yours?!
Marianna Noll
Vice President of Marketing, Kion
About the Author
Bill Kenney
Bill is co-founder, partner, and CEO of Focus Lab, a global B2B branding agency helping B2B companies connect with customers while leading their industries.
Focus Lab's past and current clients include Marketo, Salesloft, Zuora, Braze, Outreach, Launch Darkly, Twilio, Adobe, ASAPP, Luminate, Netflix, Shopify, and many others.
Watch Bill talk about the book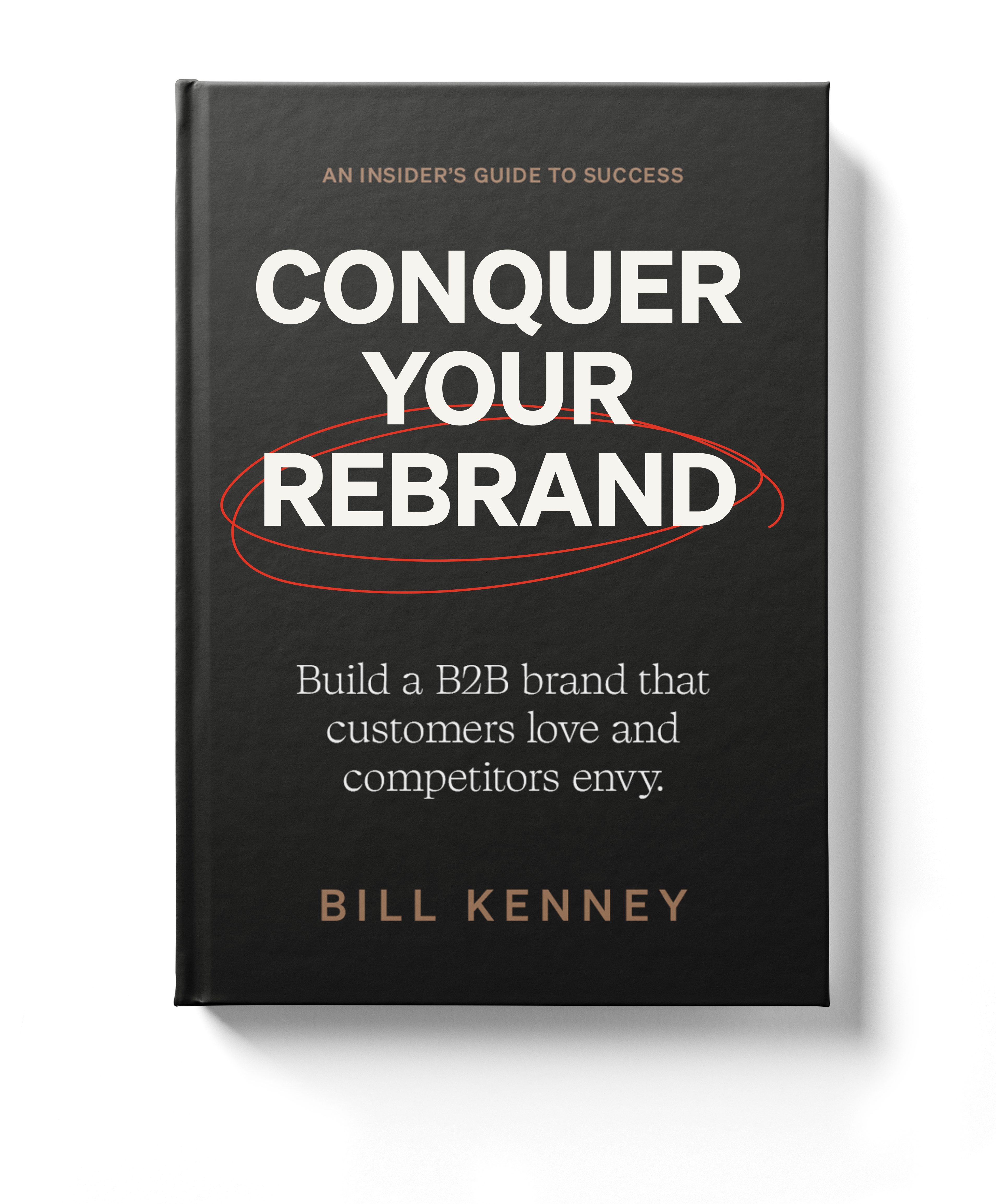 Order Today.
Purchase Now
Sign up for our newsletter to stay up-to-date on the latest from Bill and Focus Lab.